Kruger Travel Options: Getting to and Travelling Around Kruger
Kruger National Park is a premier wildlife destination in South Africa. Located in South Africa's Mpumalanga and Limpopo provinces in the north of the country, the large national park stretches along the borders of Mozambique and Zimbabwe.
Owing to the position and size, there are a number of options available for travelling to Kruger and for travel around the park, the private concessions (private areas located within the park) as well as the surrounding private game reserves.
Guests should keep in mind that getting around Kruger and the surrounding private reserves does take some time. However, it is more than worth it for the reward of experiencing the Kruger! There are options to make it an incredibly easy travel experience.
Getting There: Flying
Flying is a popular option for travelling to Kruger. Guests can arrive at Johannesburg's OR Tambo International Airport – either by international flight or from South Africa on a domestic flight. Once they have landed, guests will then need to travel to Kruger. This will require a good few hours of travel as it is a +- 400km / 250 mile drive (see below for more information).
Another option is to catch a short internal flight to one of the airports located near Kruger including: Skukuza Airport, Hoedspruit Eastgate Airport, Phalaborwa Airport and Kruger Mpumalanga International Airport. Certain domestic airports in South Africa serve Kruger Mpumalanga International giving guests even easier access to the park.
These airports are located closer to the Kruger National Park gates as well as the nearby private game reserves. The airport you fly into will depend on your accommodation. This means shorter travel times to get to the park and your chosen accommodation.  
After guests have landed they can make the journey by self-driving or by private transfer. Overall, this option requires more flying time but less time spent in vehicle transfer.
Certain lodges have private airstrips giving guests an additional option of flying directly into the private airstrips.
Getting There: Driving
Kruger National Park has nine gates dotted around the borders which allow access to the park. Visitors need to travel to one of these in order to enter.
As mentioned above, there is a fair amount of time required for travel to Kruger. The drive from OR Tambo International Airport will take approximately 5 - 6 hours. Guests can hire a car and drive or make use of a shuttle or private transfer service. The second option gives guests more time to relax and take in the surroundings during the journey.
It is also possible to drive to Kruger from destinations around South Africa including popular spots Cape Town and Durban. This will require 1 to 2 days of driving and is an option if guests are looking to road trip through the country.
Getting Around Kruger National Park
Kruger National Park is the second largest wildlife conservation area in Africa – the park is vast. For example, driving from the central to southern region of the park requires several hours of travel. Guests have the option to enjoy transfers, self-drive, or travel by small charter flights if visiting lodges with private airstrips.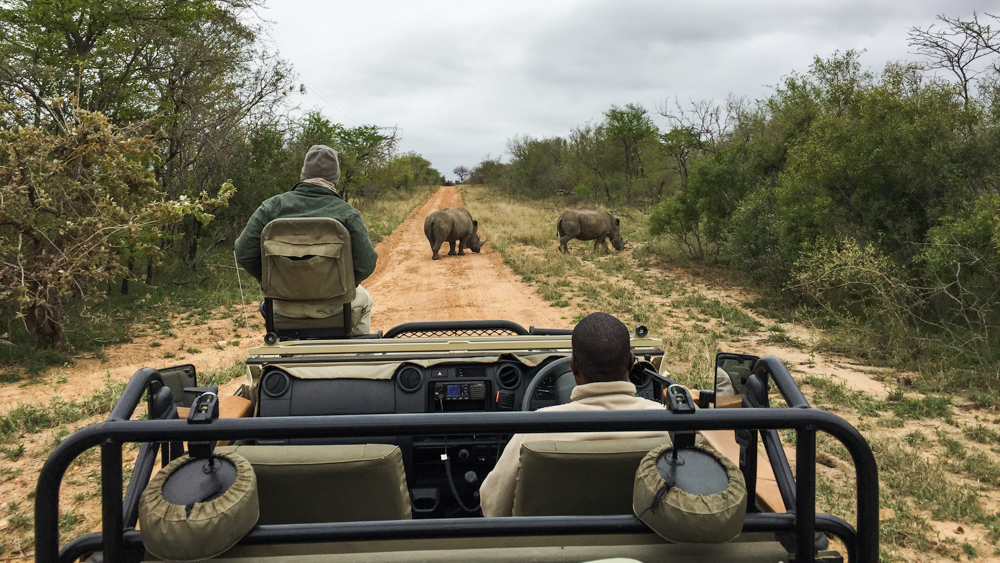 Private Concessions and Private Game Reserves:
In the concessions and game reserves guests are free to drive or be transferred to the lodge but once there, all travel will be taken care of by the game lodge. Lodges offer daily game drives through the concessions and reserves guided by trained game rangers. In the concessions, the rangers have the option to travel into the main park however; the game in the private concessions is usually so abundant that this isn't necessary. Visitors to the main park do not have access to the private concessions and reserves. This creates a much more private and personal game viewing experience as the main park can become crowded.  
The Main Park:
Kruger is home to an extensive main road network. This allows visitors to self-drive around the park. There are strict opening times and guests must stick to the main road in order to protect the wildlife.
Please Take Note:
Moving between lodges, concessions and reserves will take time depending on guests' destinations. Luckily, guests will be in the heart of one of the most beautiful sections of South Africa and can enjoy the scenery during any road transfers.
Kruger's main park, private concessions and private reserves observe strict gate closing times. Please do take note of these especially if you are self-driving in order to avoid any delays or issues. Park entrance fees also apply.