Zimbabwe: one of Africa's greatest is back on the map
The plane's jet engines start up. Over the buzzing hum there's an old familiar ping followed by an announcement. "This is your captain speaking." As we take off I get that indescribable feeling. That sensation of going back to Africa.
The destination this time? Zimbabwe.
Admittedly, whenever I leave my home country of Australia for an African one there's a sense of trepidation. Questions – such as will the Wi-Fi work so I can Facebook my family?  Did I pack enough? And will I really be safe 24 hours of the day? – pop up. It's normal.
But beyond that, there's an overriding thrill of adventure and experiencing something new. It's an emotion that somewhere like Paris or Hawaii will never give me. And as it turns out, I didn't have to worry about a thing.
Here's everything you need to know about my experience in Zimbabwe.
First impressions  
Arriving in Victoria Falls Airport is like stepping into a time capsule. Instead of waiting for my luggage at a baggage carousel, they are handed to me directly off a trailer. But these idiosyncrasies are enduring if not all together charming.
Fortunately, Zimbabwe has big plans. Apart from a modern airport launching late 2015, the government is aiming to boost tourism to 5 billion US dollars by 2018. All of which means, they're going to find plenty reasons for you to come back. But I don't recommend you wait. The luxury, adventure and overall classiness already exist in the lodges and safaris on offer.
There's more to Victoria Falls than meets the eye
After Vic Falls Airport I meet my fellow travel and Safari365 colleague Kerry Wyatt at the world renowned Victoria Falls. It's an absolute must-see for anyone. I recommend, before walking around the Falls, you take a 13 minute helicopter flight called the "Flight of Angels" – this will give you the best perspective of this magnificent site from the air and then take the guided tour or walk it yourself at your own pace!  For most Aussies that come from "the nanny state" with so many laws on safety, you will be blown away by the twig fence at the edge of the Gorge!
But there's more than meets the eye. Do yourself a favor and stay in Zambezi National Park (only 20 kilometers / 12 miles from The Falls) as an alternative to Victoria Falls Town.  Camps offer a shuttle service into Vic Falls Town so you can easily combine this amazing site with game drives, stunning private sunset cruises on the Zambezi, and optional fishing and canoeing activities.
Undeniably friendly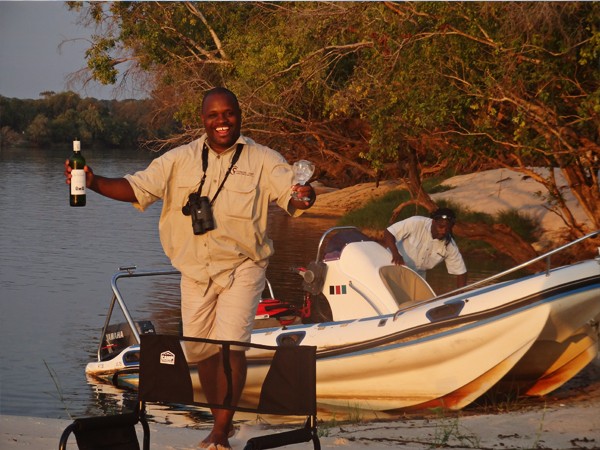 As much poetry and prose exists regarding the majestic Victoria Falls, not enough can be said about the sheer refreshingly enthusiastic service of Zimbabweans. When a local greets you, you immediately feel safe. So much so, it deserves an idiom in the English language.
From the time I arrived at Victoria Falls River Lodge ; to the time Kerry and I were served Sauvignon Blanc on our private island in the Zambezi River near Pioneers Camp ; to the safaris we'll remember for life time. Everything was delivered with a smile and the warmth only friends, family and Zimbabweans can provide.
Getting there is part of the journey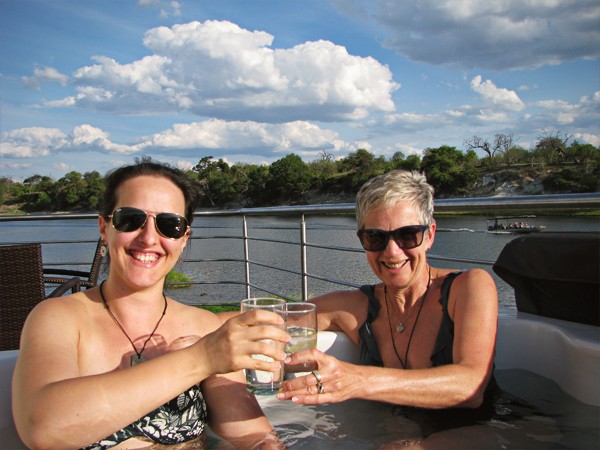 Let's admit it, transfers can be boring. In Zimbabwe it's rarely the case. In Hwange National Park – a wildlife oasis roughly the size of Belgium – there was never a dull moment. There's always this sense that you're in big sky country.
And let me just add this, if you think sitting in a 4x4 watching larger than life animals is fun, wait till you try it from the comfort of a Jacuzzi while drinking gin and tonic on the Zambezi Queen .  It's a veritable heaven for selfies and envy inducing photographs. (This option is available if you combine Zimbabwe with Botswana).
Elephants, elephants, elephants everywhere!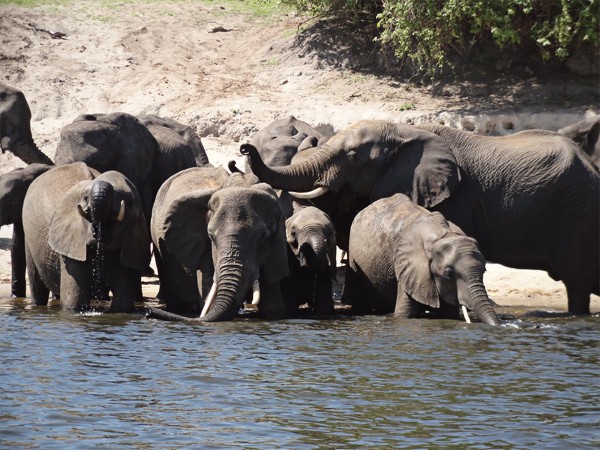 If you're going to stay at a lodge in any of one Zimbabwe's stellar parks chances are you're going to see elephants. And it's not necessarily going to be on safari. Accommodations such as Khulu Lodge and the famous Elephant's Eye (the second highest rated lodge in Hwange according to TripAdvisor) are frequented by these gentle giants who will come and have splash with you at the pool or come and say "hi" during dinner. Priceless.
My only regret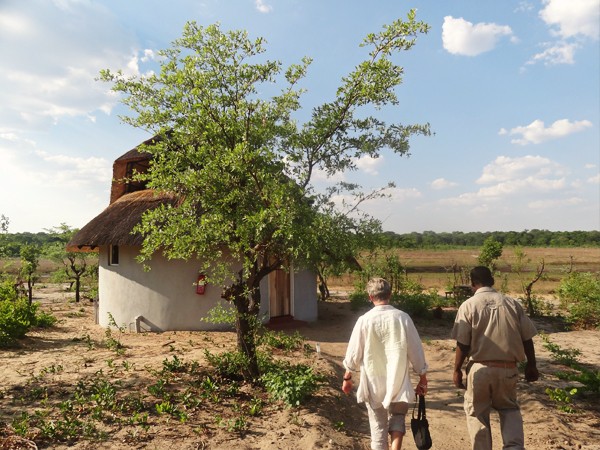 My only regret on my entire journey is not seeing Mana Pools. If you feel that this Australian traveler left anything out that you should know, Simon Heyes (one of my favorite Ausie travel bloggers) will  fill you in here, here and here. You can also check out our Zimbabwe travel page for any and all info you might require.
If you would like to go on the same journey as I did, I (or anyone from the Safari365 team of travel experts) will happily arrange it for you.
Here's to conquering new horizons. Here's to having Zimbabwe back on the travel map!