Meandering the Okavango Delta On A Mokoro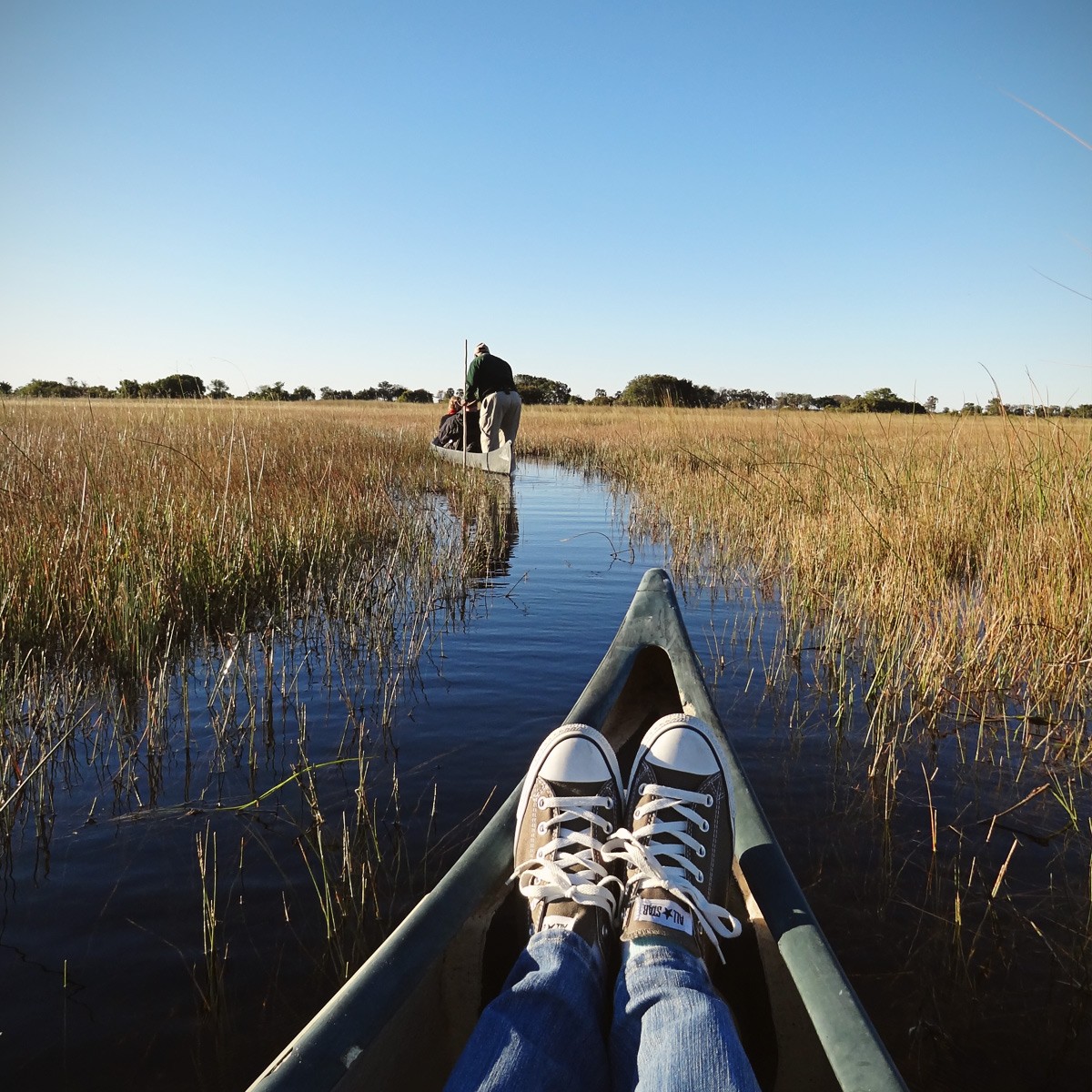 When it comes to safari activities in Botswana, few things come close to the serene experience of the Okavango Delta on a mokoro – a traditionally made dug-out canoe crafted from a straight trunk of sausage or ebony tree – which I recently tried out…
Having seen most of what there is to see in my career as an African travel operator and guide, it takes something tremendous to leave me breathless and this was definitely one of those moments. Here's my experience (and if you like to do the same, you'll love this).
Arriving in the Okavango Delta
Bidding farewell to the Chobe National Park, we boarded a small aircraft – next stop, the Okavango Delta. The view from the sky made my heart race with anticipation. When we arrived, I was surprised to see how much of the airstrip was covered in Delta water. It was late afternoon and we had never been more ready to take on this wondrous waterway…
Getting onto the mokoro
Our guides brought around these dugout canoes – better known in this part of the world as mokoros. I felt apprehensive. A canoe sturdy enough for three on waters packed with hippos and crocs… I had doubts. But once I was seated, all my worries left me. I felt safe. The guides calm and knowledgeable and assured us no harm would come to us. They never took risks and kept a distance from Delta dwellers.
The water of the Delta
Meandering through the water channels, I can honestly say my favorite part was feeling like I was sitting in the water (as strange as that may sound). You're so close to the pure water that you almost want to touch it (not advised by the guides). It's so crystal clear and listening to the soothing chirps of the birds in the long grass is the icing on the cake.
The perfect way to end the experience
What lasted an hour will remain with me forever… to top off our Okavango Delta mokoro safari, we were surprised with drinks and snacks on the jetty – the perfect end to an unimaginable day.