Meeting the Maasai
In June 2017, Safari365 consultants Wanita Lassen and Leticia Freire visited Northern Tanzania during an educational staff trip. During their time experiencing safari destinations from Arusha to the Serengeti, their group visited a traditional Maasai village where they gained some insight into the day-to-day life of the Maasai people. Wanita shared her highlights of the morning with the Maasai with us. 

I have always had a love for the Maasai. Simply everything about them; the colorful dress code, the beaded jewelry and their humble lifestyle.

So to my delight, on the third morning of the trip while on the way to Lake Manyara, our guide SP informed us that he would be taking us to experience a typical day in a rural Maasai village.

It was a lovely drive through the villages and farmland. We reached the top of a little hill and saw the Maasai homestead for the first time.
 


SP got out of the game drive vehicle to see if any of the Maasai were willing to meet with us. My excitement was building at the prospect and after a while we saw one of their senior warriors walking up across the beautiful landscape towards us.  We were then invited into the village and introduced to one of the residents Stefanus who spoke English very well as he went to school to learn and had come back to the village and teach the young children.

There was an amazing atmosphere with dark rain clouds gathering around us and rather cold wind that was blowing as we entered the center of the village. The cattle kraal, situated in the middle of the round mud huts, indicated the importance of the cattle. In Maasai culture, cattle represent wealth so the animals are looked after like gold and treated incredibly well.
 


Stefanus invited us into his sister's home. At first it was totally dark inside the hut and we could not see anything. Stefanus lead us by hand and told us to sit down on whatever surface we preferred including a bucket or a rock or even on the bed. After three minutes our eyes began to adjust and we could see. It was great to experience a Maasai home from the inside. They were so proud to explain to us the layout of the hut. There was one room that split into two bedrooms- walls dividing the two beds - and the kitchen which was made up of a couple of rocks where they make a fire for cooking.

The women build the huts while the men go out on the land to walk with the cattle ensuring they stay fit and healthy.  To visitors, the Maasai live a basic lifestyle so different to what we experience and they are content with their lifestyle. Stefanus spoke with such passion about their homes and culture; giving us some insight into their lives. He explained to us that from the age of 15, boys will leave their hut and will live outside for the rest of their lives.  We worried about the cold at night, thinking of the Maasai wrapped only in their blankets, but Stefanus explained that they are resilient and survive.




After leaving the hut we went to the small school which was really just an old, broken hut with no roof. People of all ages attend lessons. While we were there, a lady was teaching those present to count and read.  

Afterwards during our drive to Lake Manyara. Spoke about considering mentioning to our clients that if they feel that they want to contribute something to the Maasai community, instead of giving money, that they could donate some school products like books, pencils, coloring books, clay and the like.  There is a definite need for this.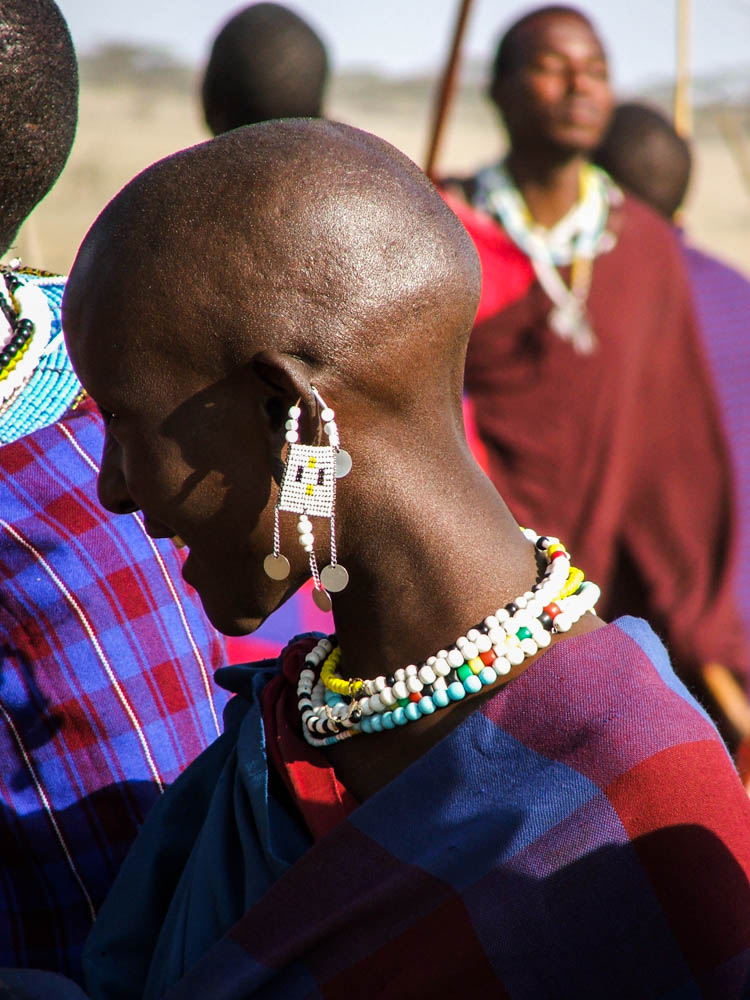 After seeing the school we were invited to dance with them and it was such an honour. I was so grateful that they shared something that they so well known for with us.  They had amazing energy and fitness. I have no idea how they do it - I am fit but my calves were on fire - they can do it all day long!  Respect! They dressed us in some blankets and jewelry which I loved. For a brief moment we were transported into their world.


All in all a most eye opening experience and for guests who want to have cultural experience I can confidently say that this would be it.

After saying our goodbyes with the little children running between us, we got into the vehicle and set off for Lake Manyara.
An encounter like this was on my bucket list and what a humbling experience it was! I loved every single minute of being in the presence of the Maasai.
Looking to embark on your own Tanzania Safari adventure? Start planning
here!