Exploring elephant country: a safari to Botswana
After a hair-raising adventure in Zimbabwe (read about it here), I journeyed to Botswana where I met with my fellow Safari365 colleagues (Kerry and Karen) aboard the Pride of Zambezi – a triple deck luxury house boat berthed on the Chobe River.  
With gin and tonics in hand, we were off to a good start. Our luxury expedition would take us through the watery plains of the Chobe and deep into the heart of Africa's elephant country where thousands of zebras migrate annually in a stunning visual that has tickled the writer in me for years.
Unrushed beauty and falling baby elephants
Unlike its bumpier road contemporary, a river safari is altogether more of a soothing experience where nature comes to you (and the comfort of your bed is never far away). The shoreline of the Chobe National Park is packed with hundreds of elephants, daily.
Sitting in a Jacuzzi, my team and I comfortably take in the views. In the distance an elephant mother plays with her calf – the pot-bellied fella keeps falling down a watery mud slide, loving every minute of it.
When you're here, surrounded by the calm embrace of mama Africa, looking at these gentle giants you get a sense of a delicate unrushed beauty – something you won't find anywhere in this hurried world of ours. 
This is the good life.
Chobe Angels, the guiding lights of Botswana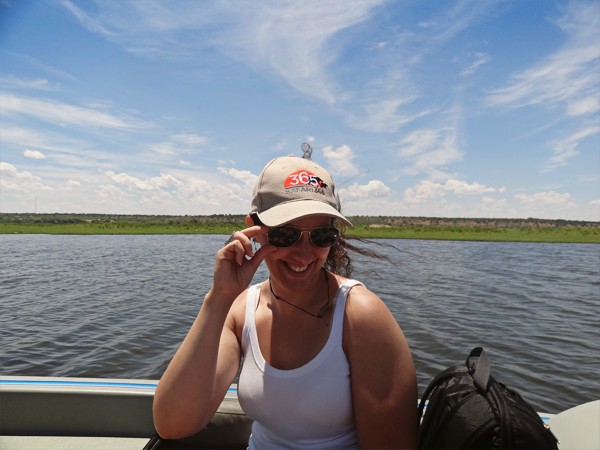 After docking, we booked a few nights stay at the river fronted Chobe Game Lodge – celebrated as the only permanent lodge inside the famous Chobe National Park. The 42-room 5-star retreat is the perfect location to start a unique safari – and exactly what we came in search of.
Guests have a choice selection of safaris including a variety of classic Big 5 and fishing safaris. Perhaps most unique of all are the Chobe Angels – the first all-female guiding team in Africa. These ladies have no doubt imprinted these lands on the back on their hands.
Our Chobe Angels highly recommended we see Savute, the renowned remote wild corner in the south of Chobe National Park. The Savute used to be a baron, dry land until the Savute River started running again in 2010. Fresh running water breathed life into the area as animals started to populate the land.
The results speak for themselves. Like our boat safari, here we could take in a fine African dinner at Savute Safari Lodge , whilst watching elephants, buffalos, zebras and hippos grazing and drinking from the river (something you can do daily).
During one afternoon, a lion tried to attack an elephant but unfortunately (or rather fortunately) he fell short!
Mother Nature's psychedelic display of wonder
From Savute we ventured south in to Makgadikgadi Pans. There are two reasons why you will fall in love with this vast empty land.
Firstly, its home to of one of the biggest zebra migrations in Africa (you can witness the stunning sight from March to September, but it's still possible to see some late stragglers in November); and secondly, it boasts the largest network of salt pans in the world.
The mesmerizing blues, greens and burned oranges highlight the creative side of Mother Nature in a psychedelic display of wonder. From our camp, we noticed the landscape was changing from green to brown as the dry season started making itself known.
Suffice to say, the face of Africa never ceases to inspire.
Okavango Delta and the magnitude of quiet moments
Our journey was coming to a climactic end. But before the fat lady could sing her final tune, we had to visit one of the most iconic areas in Botswana; the Okavango Delta.
I knew that the Okavango Delta would be home to many animals, but I didn't realize how many! From small exotic tree frogs to giant elephants, anything goes! The animals looked so at peace in their watery surrounds, I felt such a sense of African pride watching them. The delta is dry in the summer months but then fills up and reaches its capacity in the winter time, and the animals that arrive at the Okavango travel vast distances to quench themselves on this most important life source which flows from the highlands of Angola.
The best way to experience this magical part of nature is to hop aboard a mokoro (a dug-out canoe traditionally made from either sausage or ebony trees). The absence of an engine allows you to get really close to the wild. It will also give you time to fully take in the magnitude of the moment.
This is exactly what I did, whilst soaking in one last African sunset.
Good bye, Botswana
I already miss Botswana. And I will no doubt return to visit my new friends – the Tswana people made my stay in their country even more enriching. I look forward to introducing them to you when you book your safari to Botswana with us. You will find them extremely welcoming and outgoing. Their smiles, availability, problem solving, professionalism and joys are something for the books.
Good bye Botswana, you have made a home in my heart.