5 Bush Camps in Zimbabwe that will inspire you to visit Africa
Unlike its sprawling European contemporaries, African accommodation is a little different. As travelers we've often heard the word 'escape' (used liberally in hotel pamphlets and travel blogs the world over) but it when it comes to mama Africa it couldn't be more applicable. Especially in Zimbabwe.
Here are 5 bush camps in Zim that will inspire you to visit Africa.
Zambezi Life Styles
Zambezi Life Styles redefines 'glamping' (glamorous camping). This semi-permanent camp travels up and down the mighty Zambezi River in search of the best adventure spots in Mana Pools. The result? You can wake up, walk a few steps jump in a canoe, go fishing and take a snapshot of giant bull elephant.
Somalisa Camp
Forget about French boutique hotels and marble hallways, Somalisa Camp features well-traversed elephant paths connecting your room to the lounge and dining areas. And don't worry about poolside conversation; the elephants dipping their trunks in cool water will break the ice. This sanctuary in the heart of Zimbabwe's leading Hwange National Park has become an institution and a facelift is set to make it even better.
Somalisa Acacia
As the name suggests, Somalisa Acacia is the little sibling of Somalisa Camp. What makes it better? It only caters to 8 people. Add in a waterhole – frequented daily by wildlife – a stone's throw away and you're set for a life-time of great memories. 
Kanga Camp      
The eco-friendly Kanga Camp breathes new life into great family adventures and leaves you with nostalgic experience in one the most remote reaches of Mana Pools. Rent out the entire establishment and spend long lazy afternoons under a larger-than-life tree contemplating your naval whilst watching lions in the distance.
Elephant Camp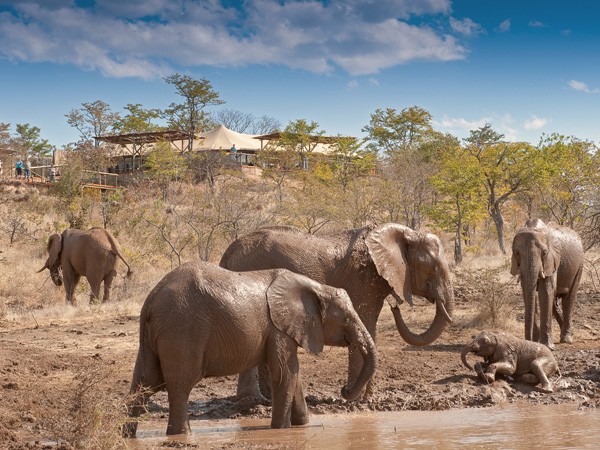 Wake up every morning with elephants splashing in a nearby spring and hair-raising views of Victoria Falls at the luxurious Elephant Camp. Situated on a private concession bounded by the Masuwe River and Zambezi gorges, there are few lodgings in this world that captures so much romance in one unforgettable location.  Check it out for yourself, take this virtual tour.     
Like what you see? You're going to love this 11-day journey.